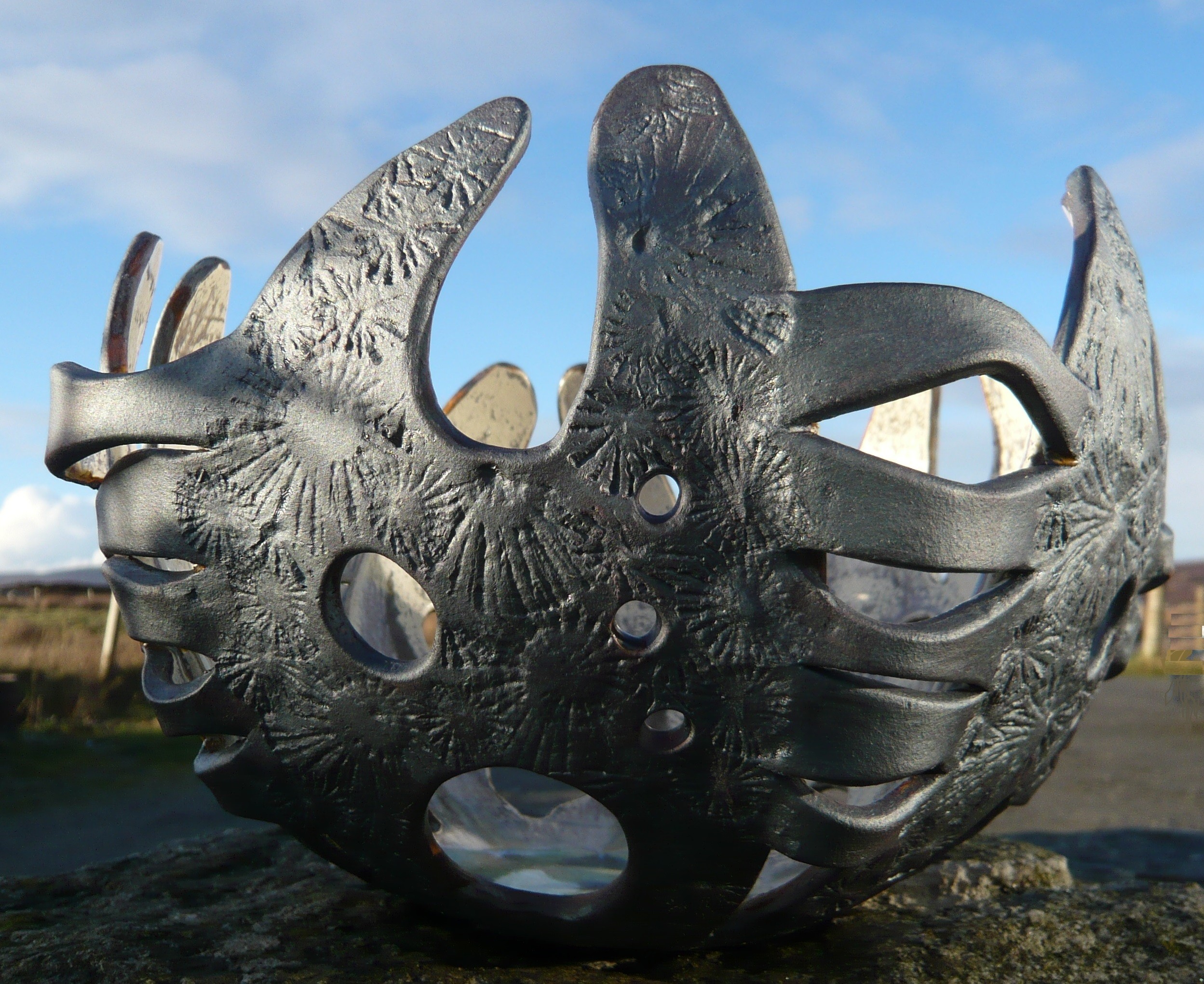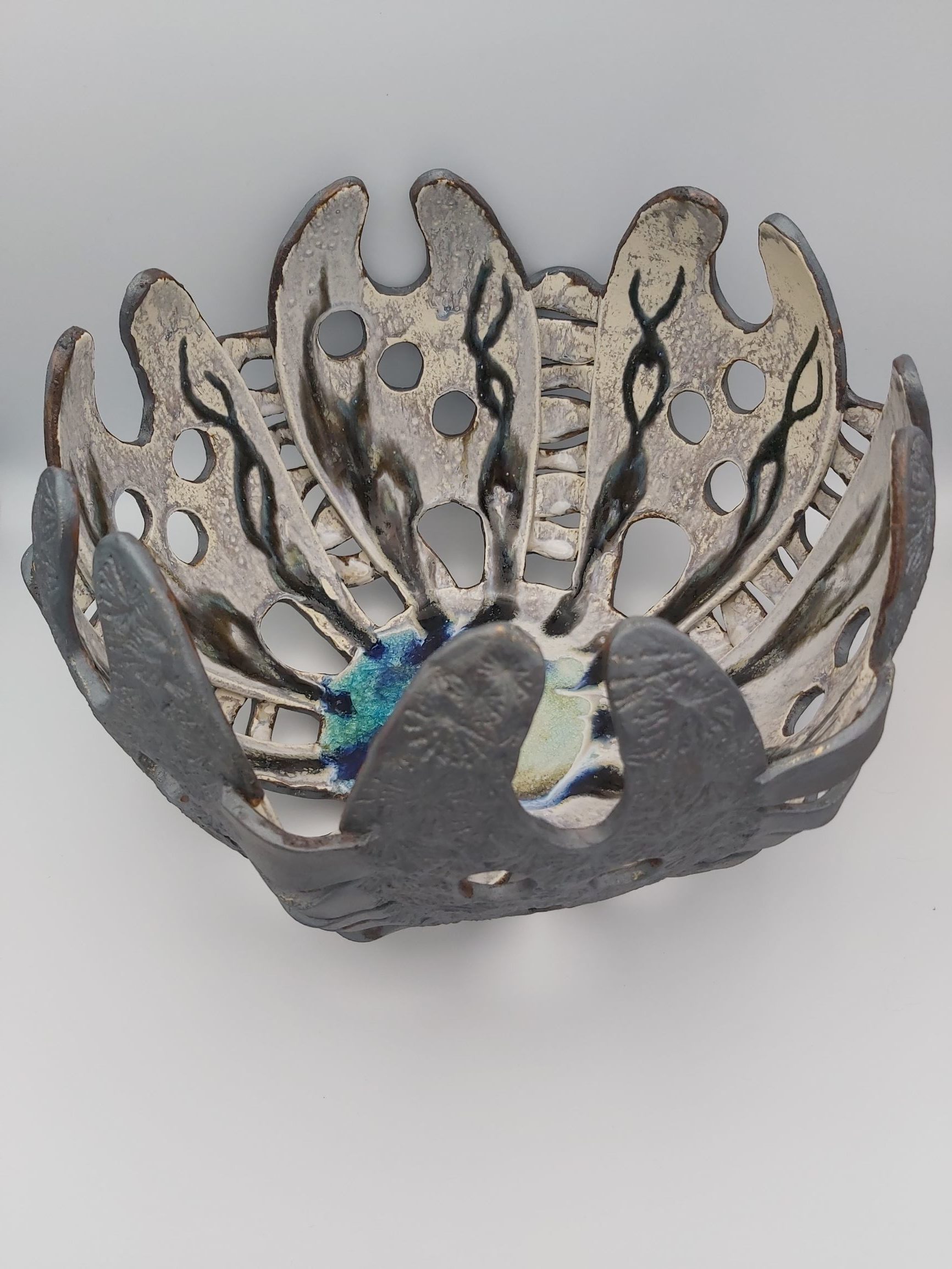 Louise Cook
(Shoreline Stoneware Gallery owner)
I create stoneware fired ceramic sculptures inspired by the Hebridean coastline which capture the essence and uniqueness of my island home in North Uist. I have been working with clay for over 20 years and my work continues to evolve as my response to my environment and my ideas develop.
I spend a lot of time at the beach with my two cocker spaniels gathering textured natural sea fragments to emboss on the surface of the clay. Wee treasures like cowries, dried kelp seaweed, whelk, scallop shells are all scooped up and taken to the studio. I use a variety of ceramic firing processes, from a more traditional firing in my electric kilns, to peat firings in an old gas bottle.
My use of natural rock sediments gathered from our croft, once worked by my grandmother in North Uist, creates a rich natural glaze in my stoneware fired work. It's a delight to work with a sediment deposit on the croft, although it can be somewhat tricky to handle in the kiln at times!
The new gallery represents years of hard work and dedication in building up my wee business. Throughout that time I have welcomed so many wonderful people through its doors. The new space is so much bigger than before and has allowed me to invite more talented artists to exhibit here too.
I look forward to welcoming you as you explore the Hebrides.
Diane Cook
For over 30 years, I have been passionate about art in all its forms. My portfolio of completed works includes photography, creative objects inspired by the sea and visual images using pastel and paint.
As an artist I am self-taught. For many years I have been developing and honing my practice and individual style. Today I work in a range of mixed medium – favouring acrylic and ink for their versatility in blending colours and textures.
In life, my time is split between the Highland Capital of Inverness, and the family croft on North Uist in the Outer Hebrides. Since early childhood I have had a love of the land and seascapes of this cherished personal paradise. The eternal views with their ever-evolving colours, shades and textures. I take a genuine pleasure in painting them as my primary focus, transferring those layers of beauty through brush to my work.  It is such a beautiful island and I feel privileged to call it home.
We all lead busy lives. Yours will be no different to mine. My release from a hard week at work and running a busy house is to capture, through art, the atmosphere and tranquillity of the places that hold great memories, and future adventures for my family and me.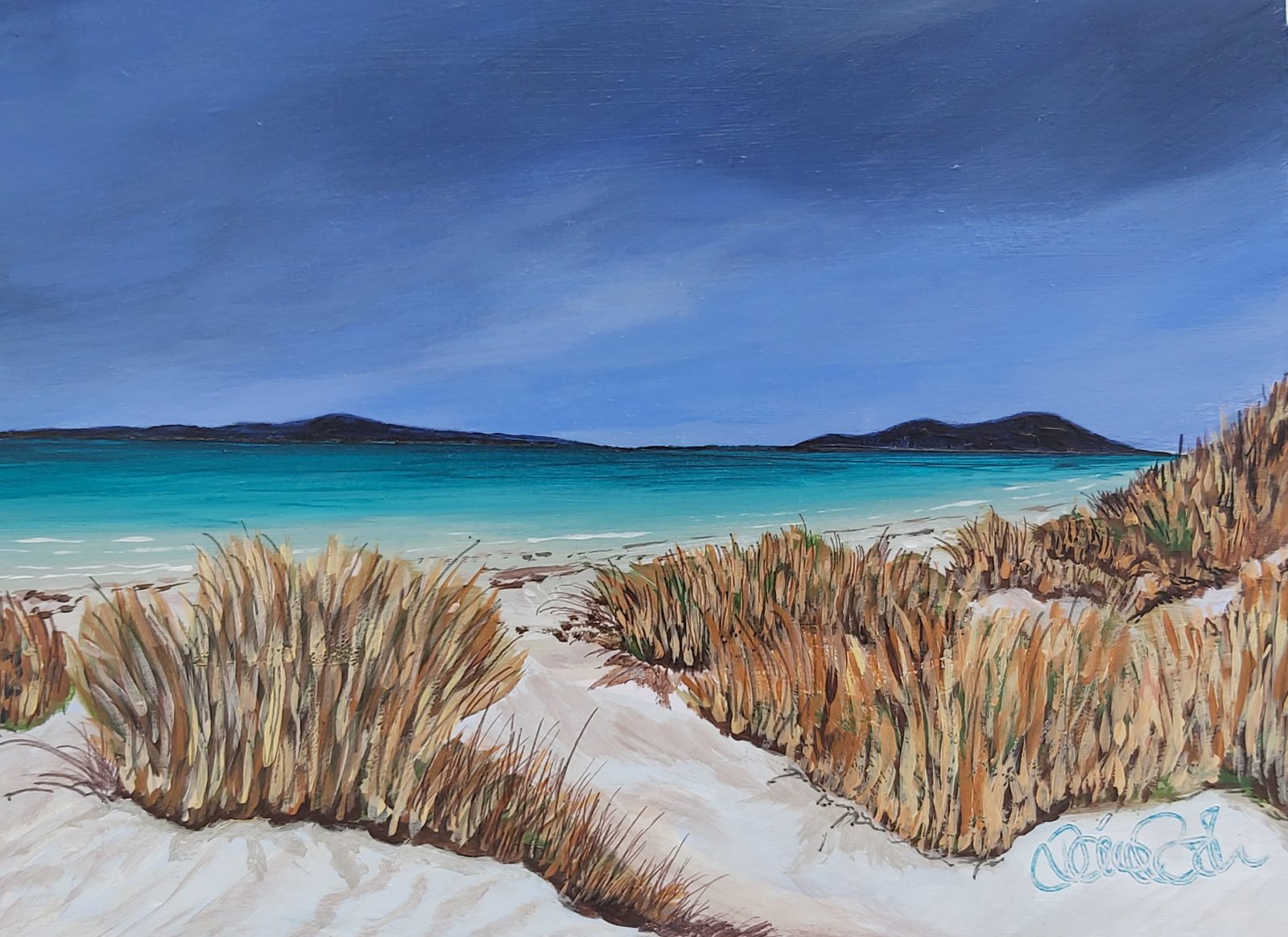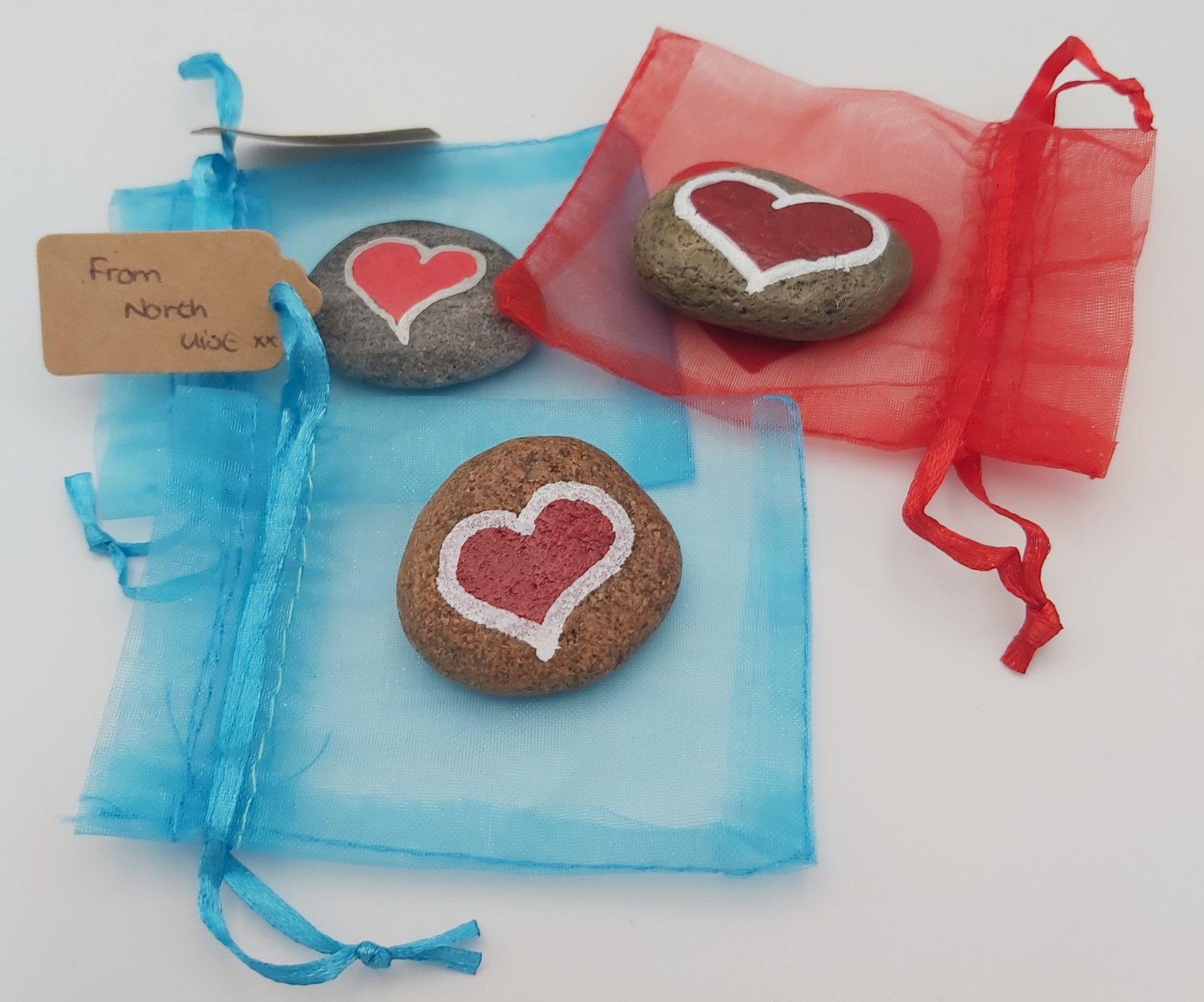 Amber Tait
I have just started in secondary school and love spending time in North Uist at my aunties. I enjoy making things and making people smile. I like collecting pebbles and shells and turning them into something more by adding drawings and making designs. I really like my 'Adopt a Pet Cloud' and coming up with all the different names. I hope you like my work too.
Ani George (Cast of Antlers)
https://CastOfAntlersCrafts.etsy.com
Taking inspiration from the Uist Islands' Nature of wild red deer, sea, beaches, hills and moors' beautiful colours, I combine cast deer antler with local naturally smoothed beach stones, coloured beads, gemstones and charms replicating the stag's varied island habitats.
Early each spring the stags cast (drop) their antlers, I collect the antlers, clean, cut, sand, drill, and buff to create crafts which showcases their natural rugged yet stunning beauty.
Combining red, orange, and greens of the seaweed, blues of the sea and sky, browns, purples and yellows of the moors and hills across the seasons with the shades and textures of the cast antlers replicates the relationship between the majestic wild stag and the breath-taking beauty of what makes up the Uist Islands.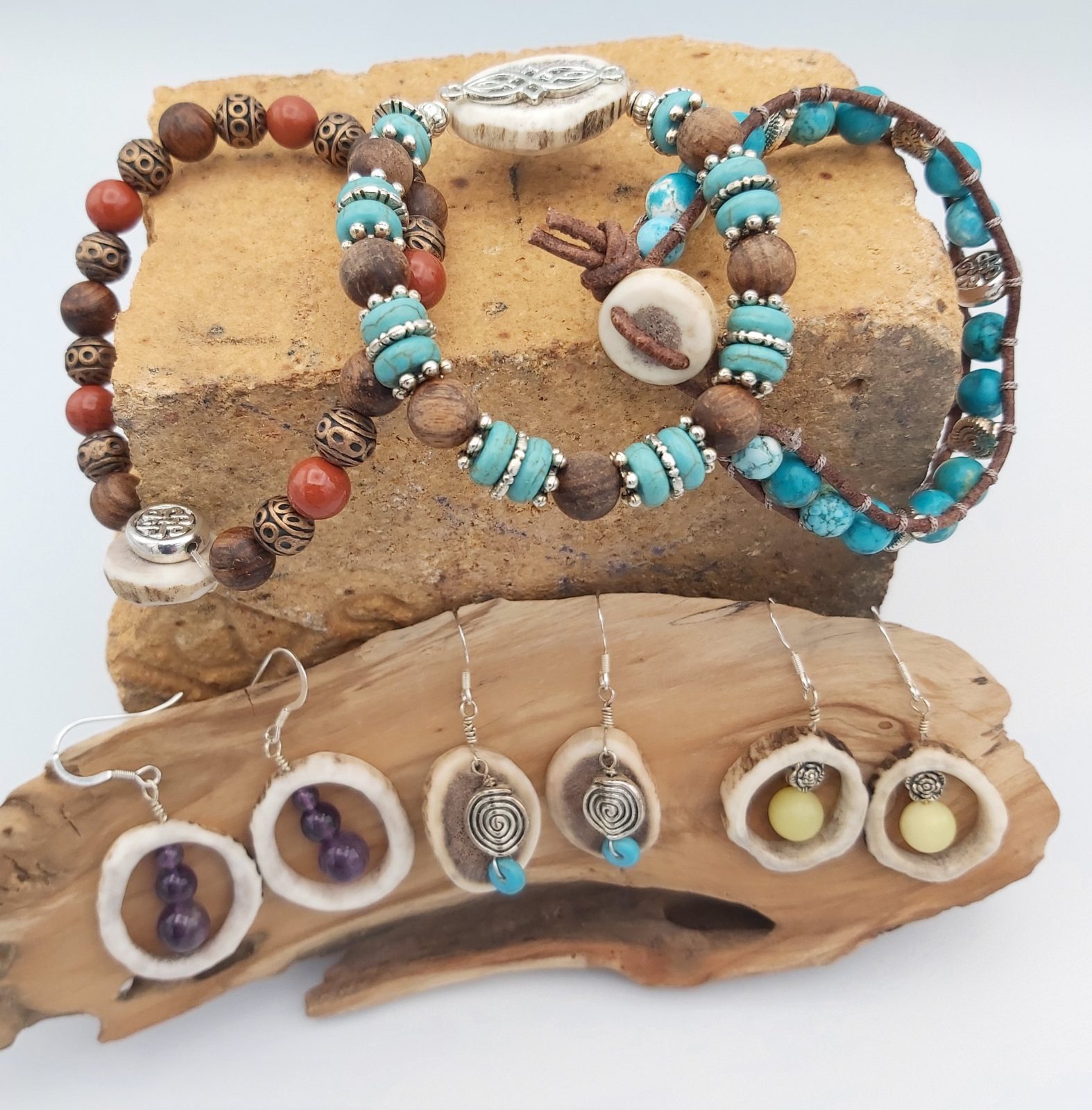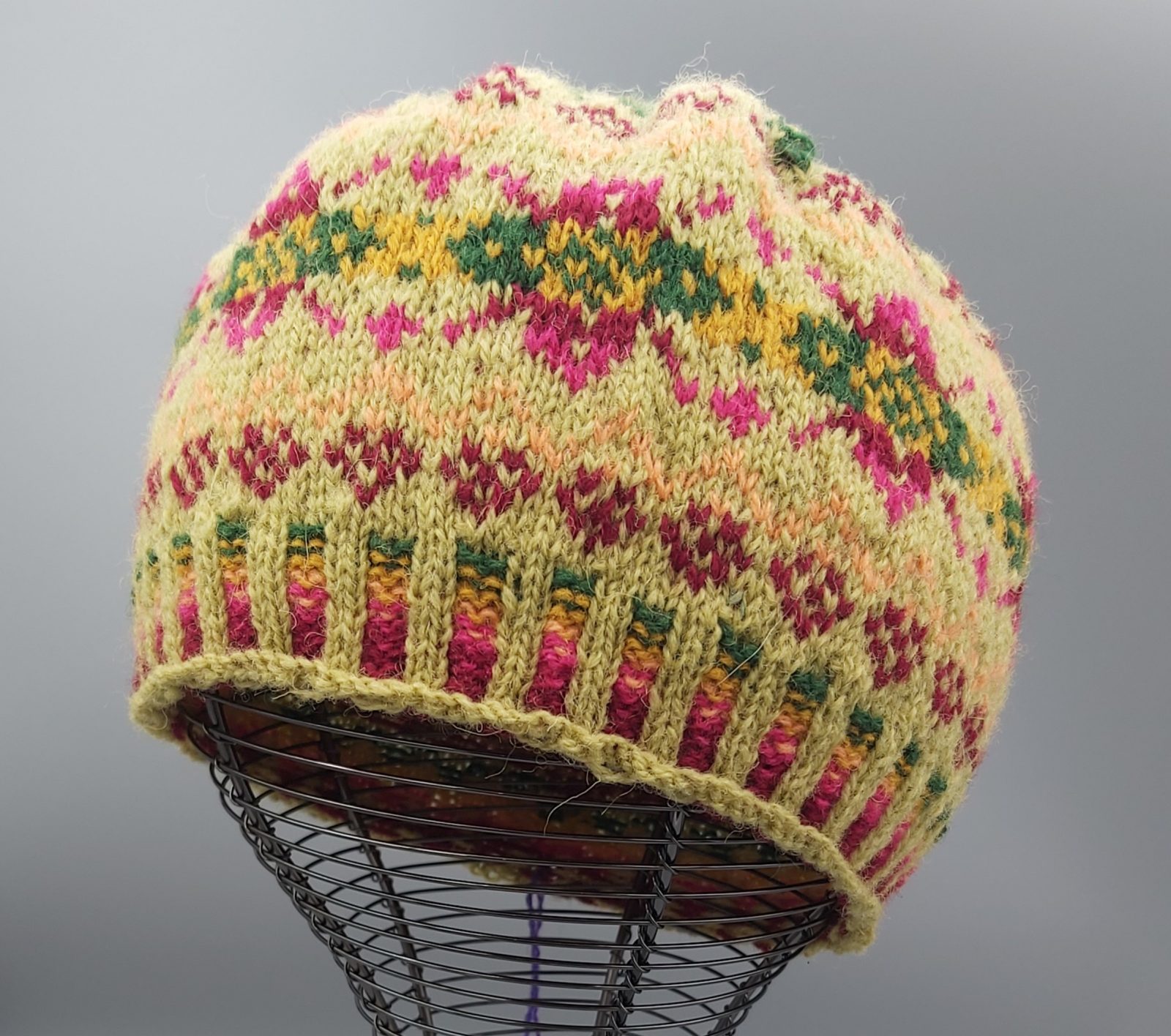 Kirsty MacLeod
Kirsty Macleod is a knitwear designer who was born and brought up on the island of North Uist with close family links with Shetland as well as the Hebrides. Taking inspiration from the ever-changing colour pallet of the landscapes and seascapes that she sees every day, Kirsty designs all the patterns for the kits and hand knits all the knitwear for sale, she is always thinking of new patterns and designs to represent her island home and heritage.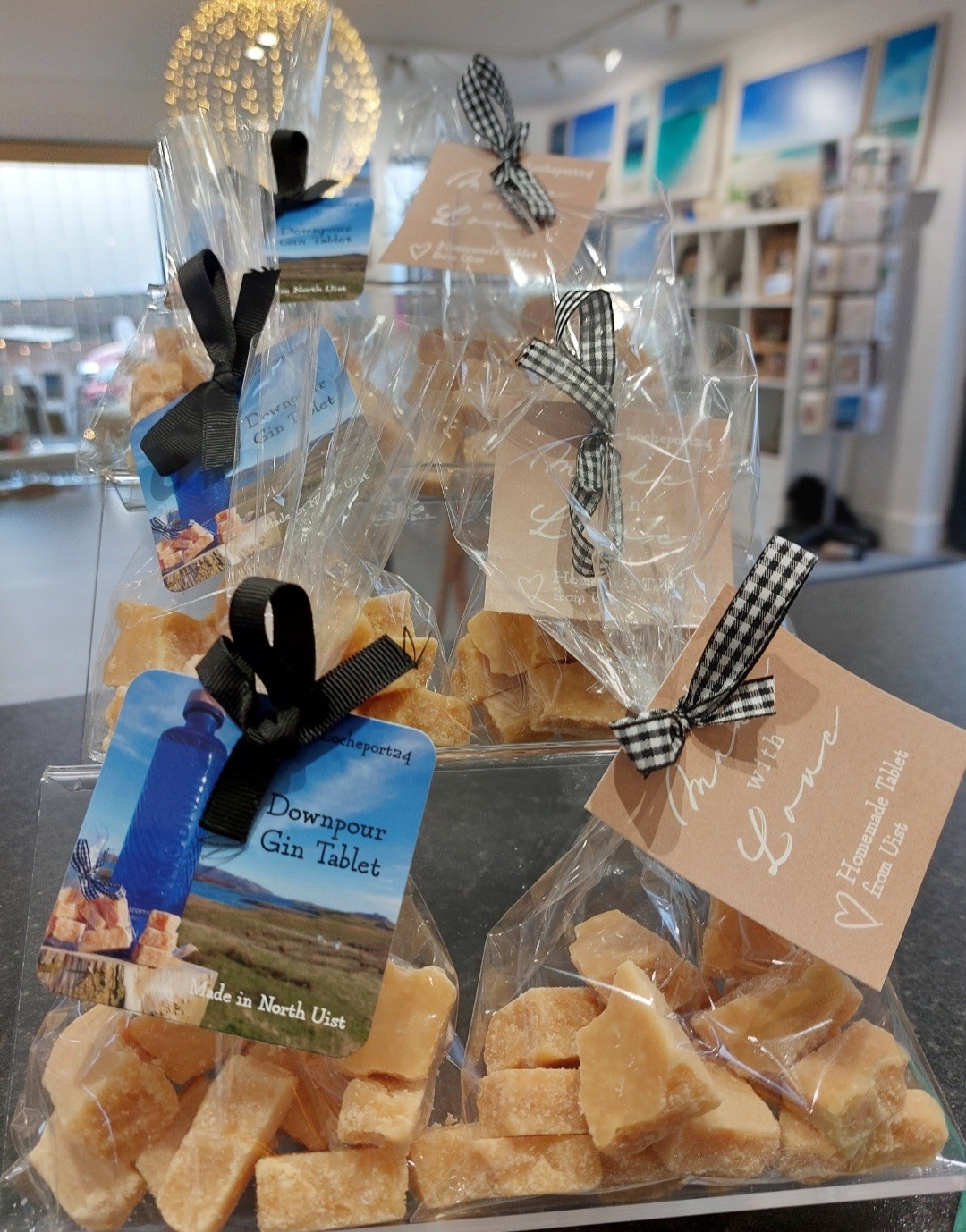 Peter Rintoul
Some odd fifty years ago I fell in love with a girl from North Uist and then with her island. I have been creating images of Uist ever since. My other love is the sea – watching it, or sailing on it, but not in it (don't like getting wet). So, living on an island is perfect.
With no formal training I sought my own way, experimenting with various styles and media – acrylic, oils, watercolour, pencil, charcoal, ink, lino prints, dry point and wood carving. The result is a somewhat eclectic mix. This applies equally to subject matter, landscapes, seascapes, portraits, caricatures, children, pets and urban scenes.
In 2017, I wanted to celebrate my seventieth birthday with my art, creating a piece each day for the seventy days leading up to my birthday. This was an opportunity to explore my many interests and experience a period of intense working and creativity. I made it!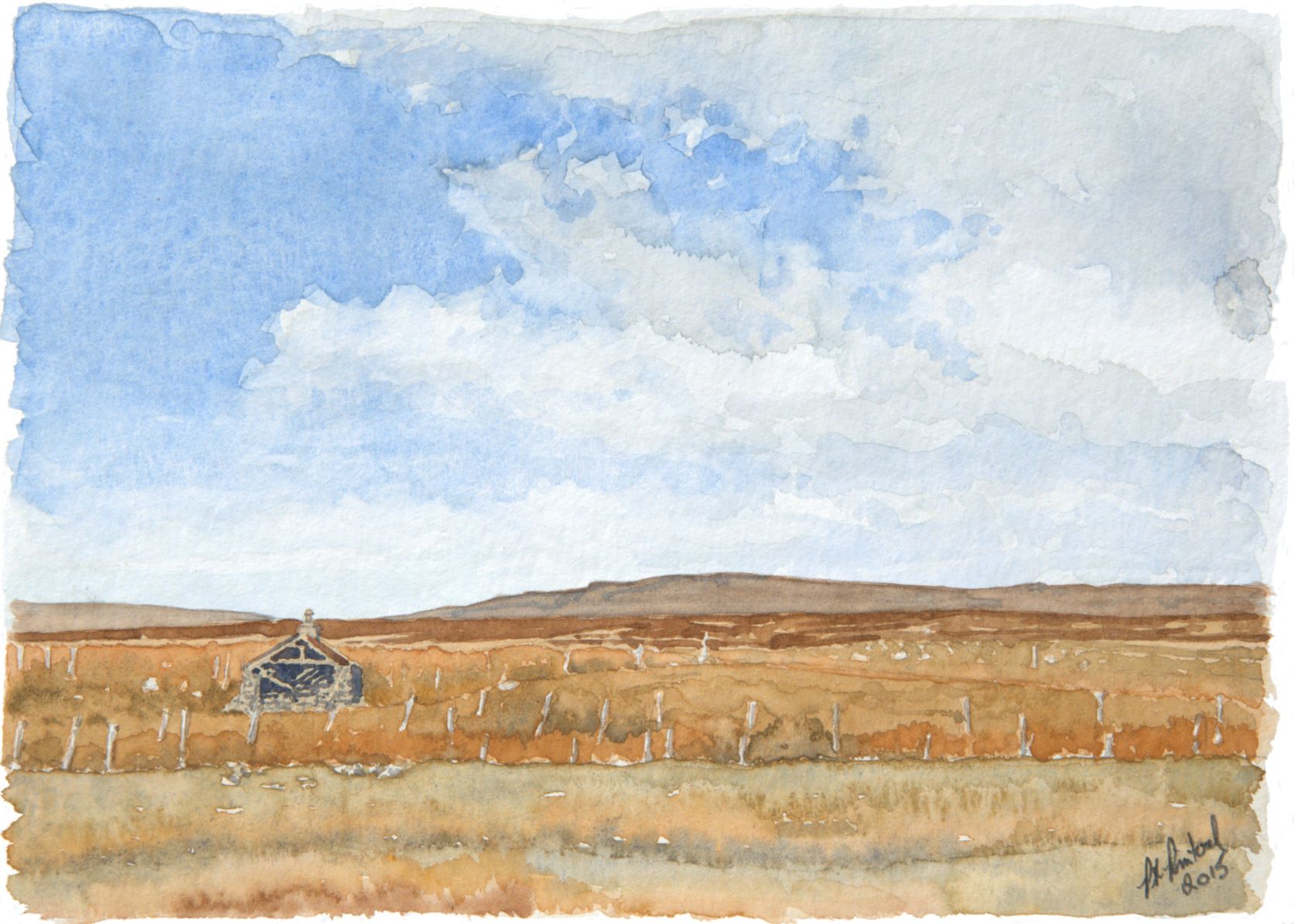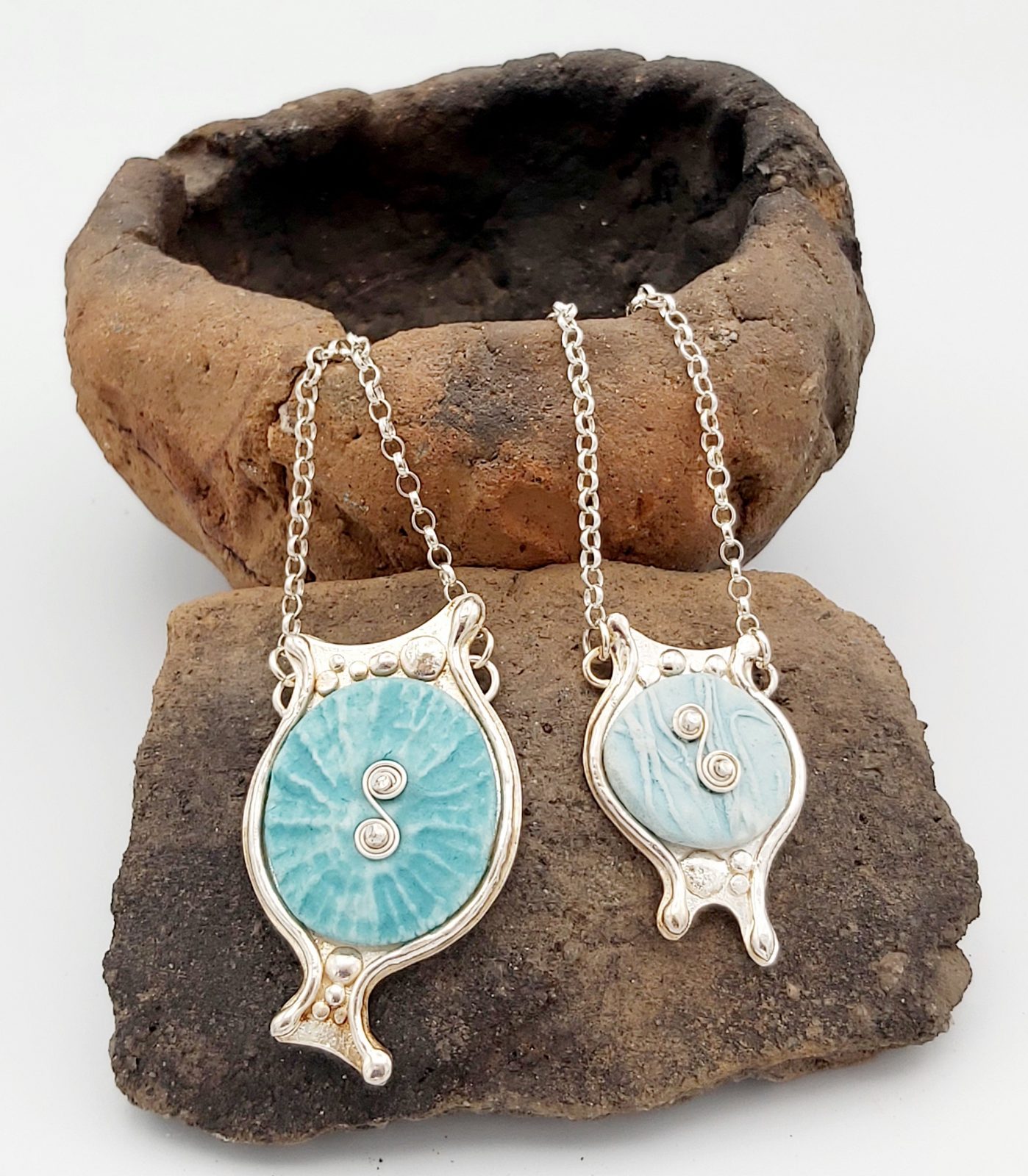 Duncan McGregor (SILLER & STANE)
I'm Duncan McGregor and I live and work in rural Perthshire. I trained as an engineer but now devote my time to my long-time hobby. I make silver jewellery from sterling and fine silver. From making simple pieces for friends and family, I now regularly participate in Craft Fairs. The inspiration for many of my pieces comes from the carvings on ancient Celtic and Pictish stones. My love of the Islands and the colours of the West of Scotland inspired me to incorporate Louise's buttons, textured with finds from nature, into silver jewellery to create lasting memories of the Islands.
Anne Rabbitts
Jocelyn Anne Rabbitts is a Botanical Artist based on North Uist.  An active member of the Scottish Society of Botanical Artists her work has received awards and has been exhibited in Scotland and London including work selected for the prestigious ' Botanical Art Worldwide Exhibition' in 2018 hosted by the Royal Botanic Gardens Edinburgh. In 2020 work was selected for 'Plantae' The Society of Botanic Artists annual international exhibition in London.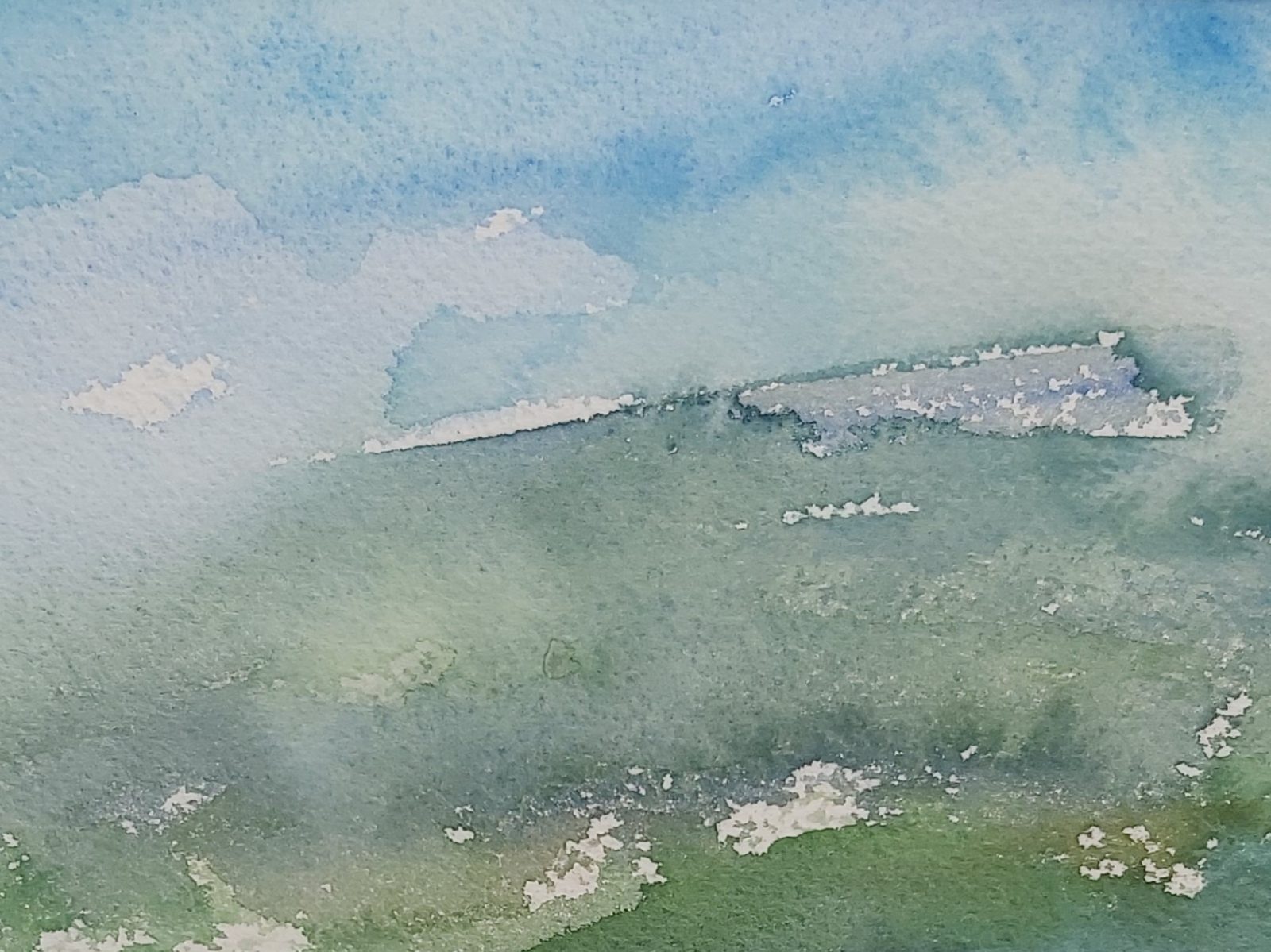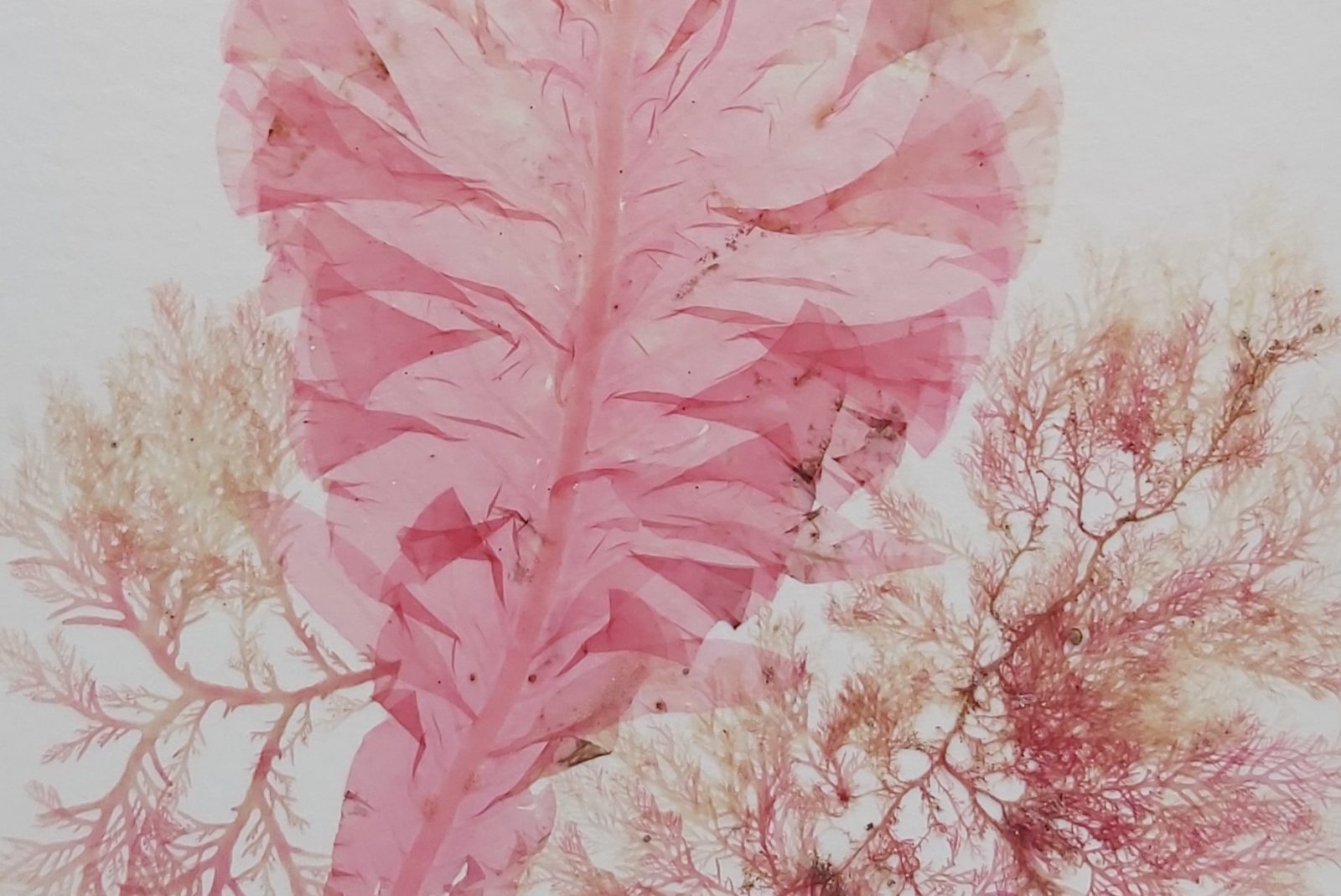 Vanessa Langley
The seas cover most of the planet's crust and are important environmentally to our survival. Seaweeds or algae are plants, whose existence is essential to the life blood of the oceans. Historically crofters on the Uists have used their prolific food values on the land as fertiliser and also as food on the domestic kitchen range.
As a committed nature lover walking the remote sands and beaches of the Hebridean Uists I am enthralled at these fragile plants that waft hypnotically back and forth in the undercurrents of these translucent waters. Single stranded, or in clumps their beautiful colours and entrancing shapes lend themselves to being transformed into unique pictures. Pressing them takes time and patience, but the result if something which I hope everyone can enjoy.
Margaret E Cowie
www.societyofscottishartists.org & Fb Margaret E Cowie Fine Art
Margaret Cowie's work is about the land and seascapes of the islands. Driven by the weather, moods, seasons and flora, she look at abandonment, ruined homes on crofts, human traces.Examining    history and cultural heritage which connect to the physicality of the earth and the findings peculiar to the island locality.
She paints in oil, acrylic and watercolour applying collage when necessary, as well as mono printing and alternative photography techniques.
She graduated with a BA Fine Art in 2014. She lives in Ahmore, North Uist, near Lochmaddy. She has been a nomad most of her life, born in the North East of Scotland then island hopping through many of the Hebrides. Uist is where she has chosen to put down roots.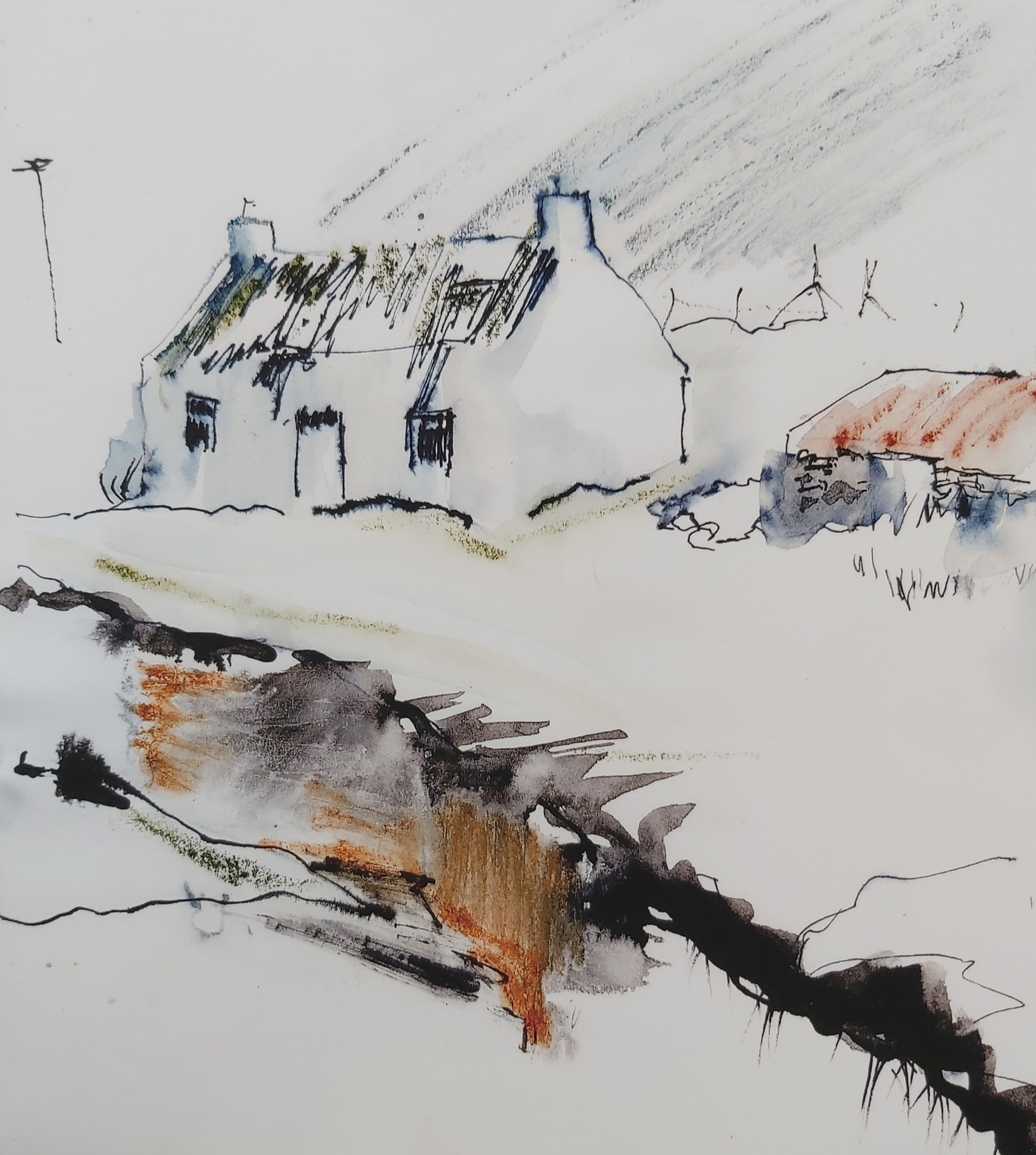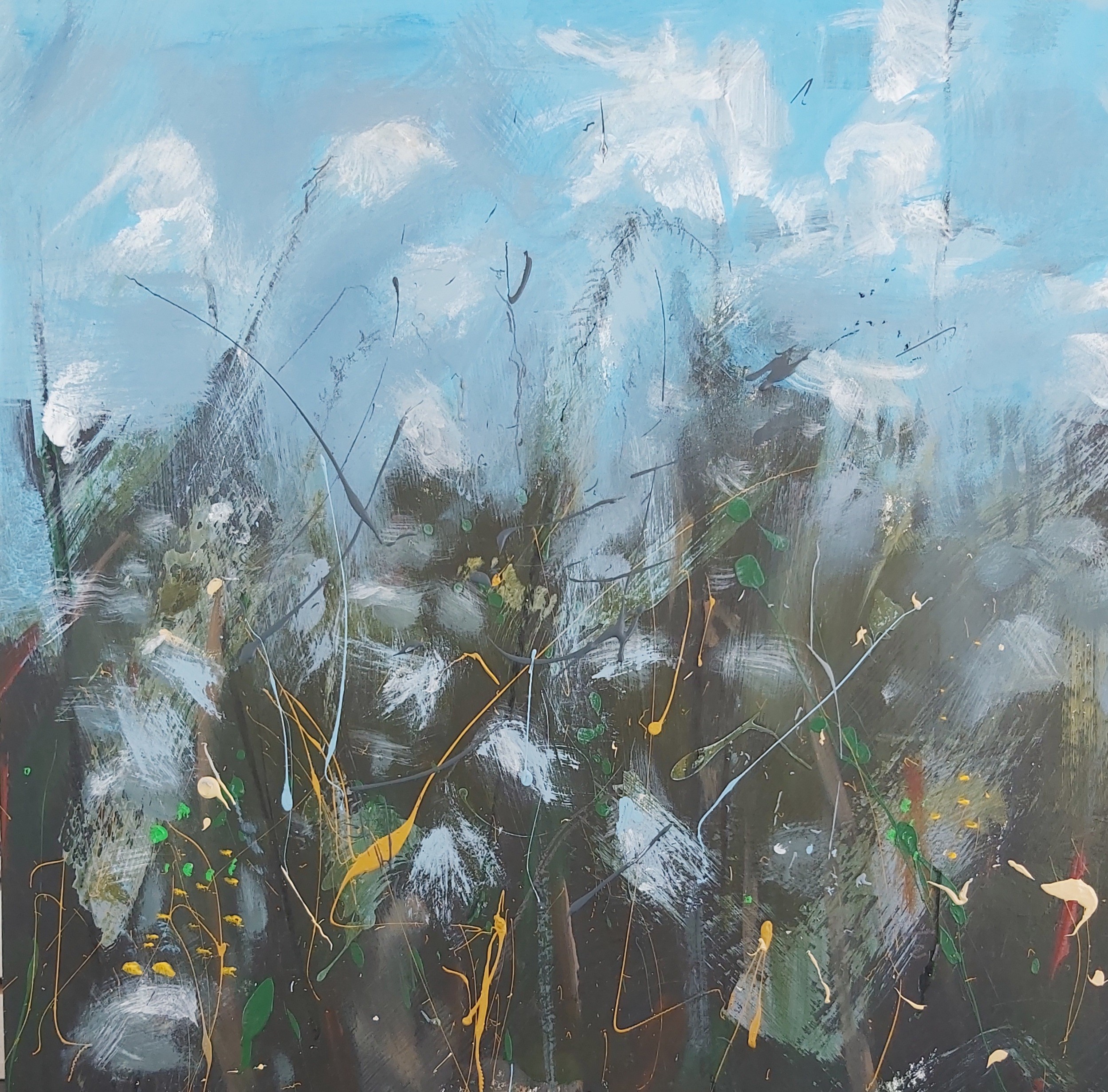 Norman MacLeod
Norman Macleod was born and raised in the village of Lochmaddy on North Uist.
After leaving Portree High school on the island of Skye he graduated from Gray's school of Art in Aberdeen where he specialised in painting. During this time he also worked in Peacock Printmakers in Aberdeen and Glasgow Print Workshop.
A native Gaelic speaker Norman is influenced by the language culture and the ever-changing land and seascape of North Uist.  Norman has shown his work extensively with many of his works in private collections.
Corinna Krause (Sollas Bookbinding)
Corinna's work is inspired by the place she lives in with its colours, shapes and both natural and manmade materials. She works from her small studio making books and boxes for commissions such as wedding or baby sets, collaborates with others on artist books and exhibitions and welcomes people into her studio shop to have a look around or learn a little bit of her trade in bespoke bookbinding workshops.
For Shoreline Stoneware Pottery & Gallery, Corinna has put together a series of books made from stunning Harris Tweed by the Adabrock Weaving  Company with colours and designs that are elegant and tactile and reflect the beauty of the place surrounding us here in Uist.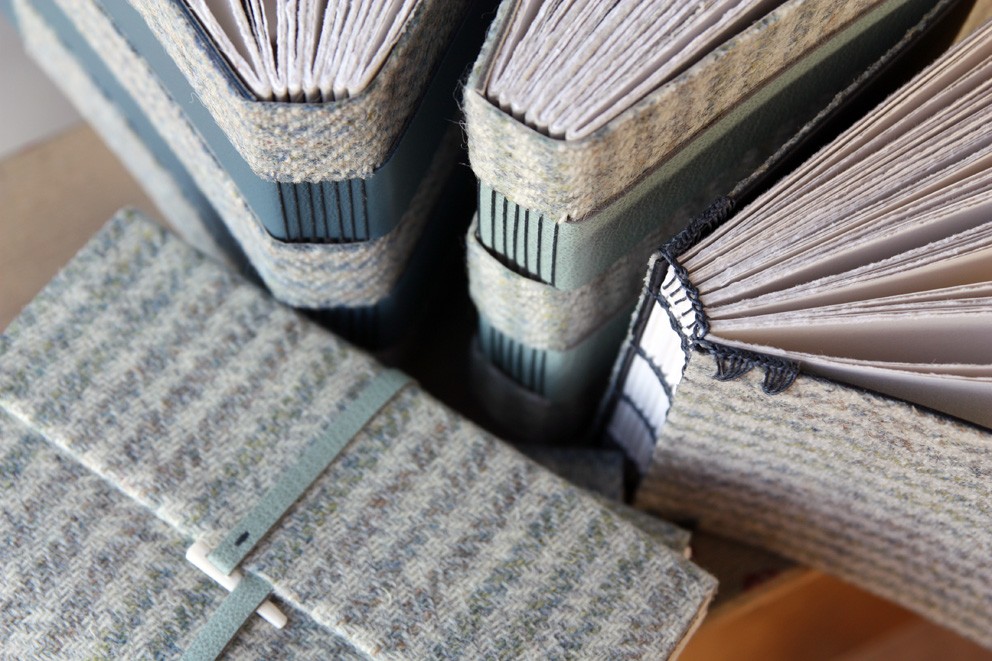 Jarlath Fenton
The inspiration for these glass pieces is light. The simple white colour of the plaster of Paris, provides a contrast to the colour of the glass.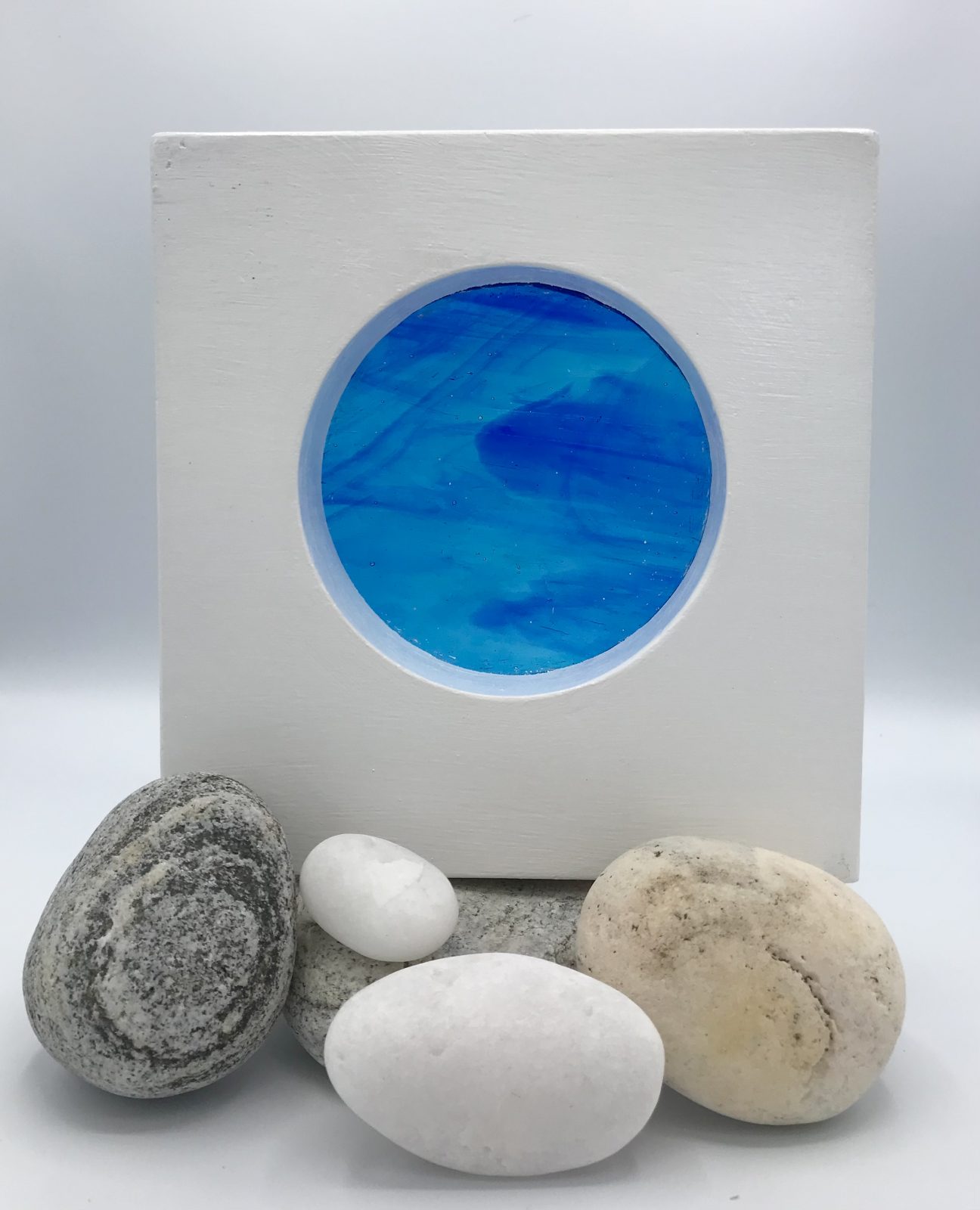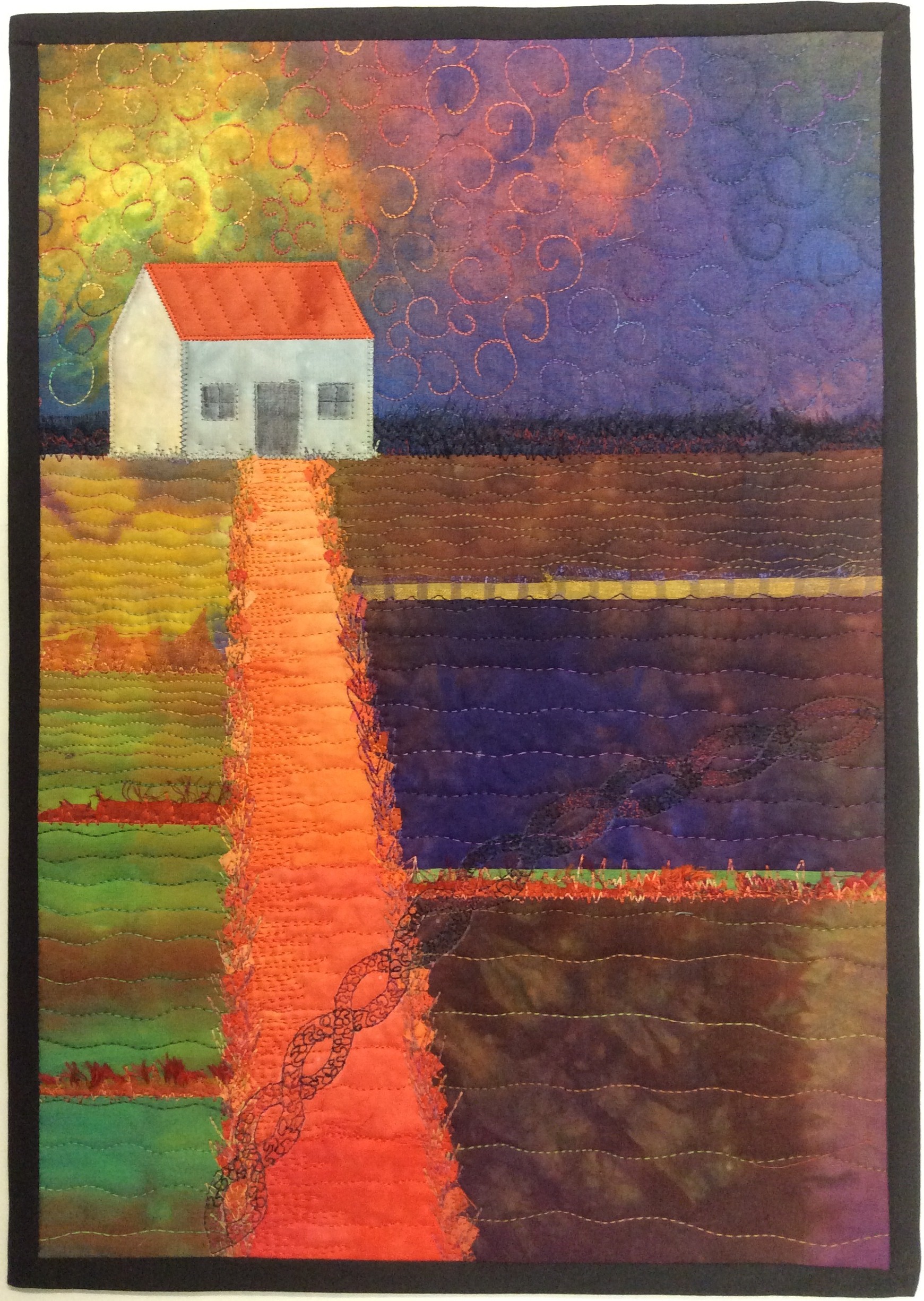 Pat Archibald, Textile Artist
www.patarchibald.com
Pat's associations with the Outer Hebrides go back thirty years or more, firstly visiting her brother on South Harris and more recently building a new studio/house in Locheport, North Uist to be near her family. She plans to divide her time between her studio here and teaching and textile work that take her to far corners of the world.
As a textile artist it is the worldwide adventures that inform her work both in terms of the colours of the landscape and the cultures that she has the privilege to spend time in.
The Outer Hebrides have their own special heritage, ecology, atmosphere, myths and legends that inspire her island themed work. Being able to spend extended time here is a joy and this enthusiasm for island life is cascaded to the students that she teaches at her 'Escape to the Croft Stitching Retreats' in Locheport.
In addition to her travel work, teaching and commissioned work Pat produces a collection of textile art stitching kits that are available from Shoreline Stoneware. These kits are aimed at keen beginners in patchwork and quilting, contain all the ingredients that you need (except for threads) for a successful outcome.
Gary Ford Photography
After moving to Benbecula in 2008 I fell in love with the islands landscape and beaches. This inspired me to go back to photography and try and capture the beauty of these islands. My main focus is on Sunsets and Sunrises, but I do like to have a camera on me at all times… just in case!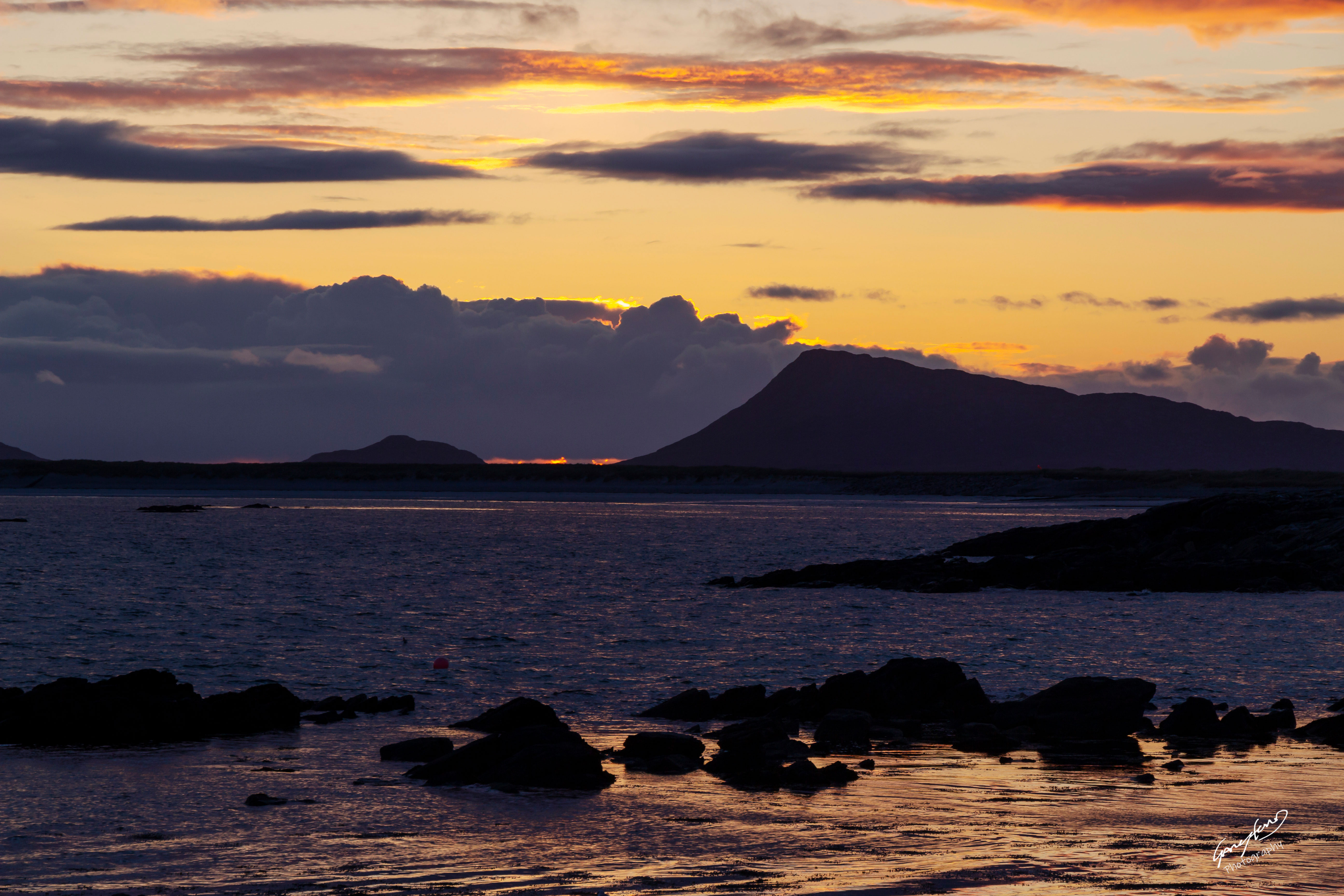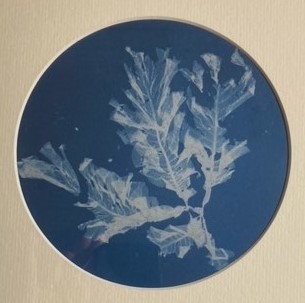 Sarah Maine
I first came to North Uist with my family in 1994 and have been coming almost every year since. We all fell in love with the island and spending time here every spring became a highlight of the year. There is something about the landscape, the quality of the light as well as the big skies and wide horizons which always inspires and keeps me coming back.
In recent years I became interested in cyanotype and the pieces in the gallery are all produced from North Uist plants. The delicate lacey seaweeds found along the shoreline are perfect for cyanotypes as are the sea pinks and machair flowers which flourish along the coast. Each piece is unique and made using the sun's rays to achieve the appealing Prussian Blue colour, echoing the strong shades of the Uist skies and seas.
As a writer I come here for inspiration, away from the distractions of daily life, and creating art provides another reason to keep returning to this very special part of the world.
Claire Conner
Having family connections in Berneray and North Uist, I have been coming to these magical islands for forty years. The ever-changing moods of the landscape, and the incredible colour palette of the sea, sky and land, inspires my glass work, both in views and abstract pieces. I also love puffins!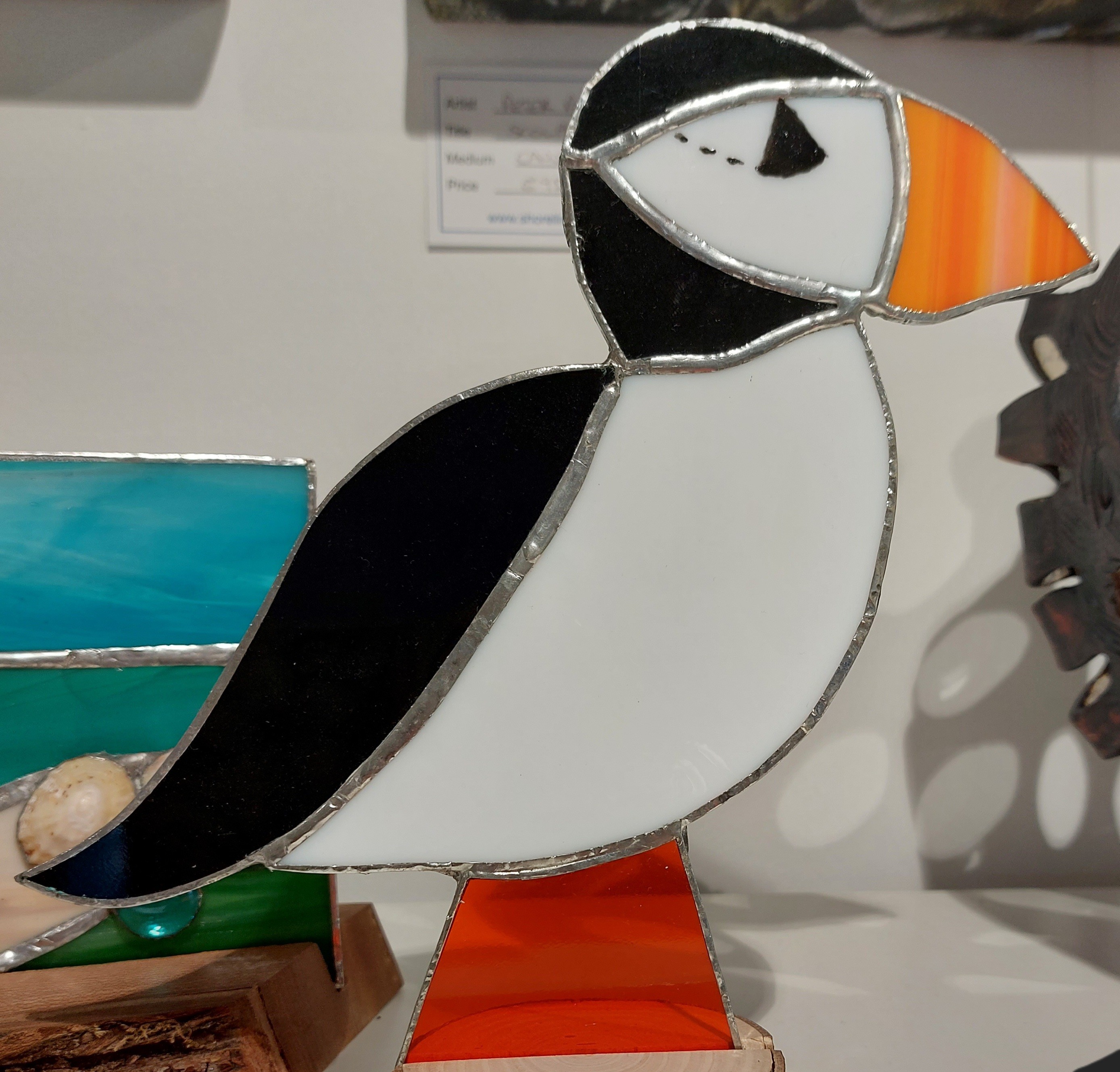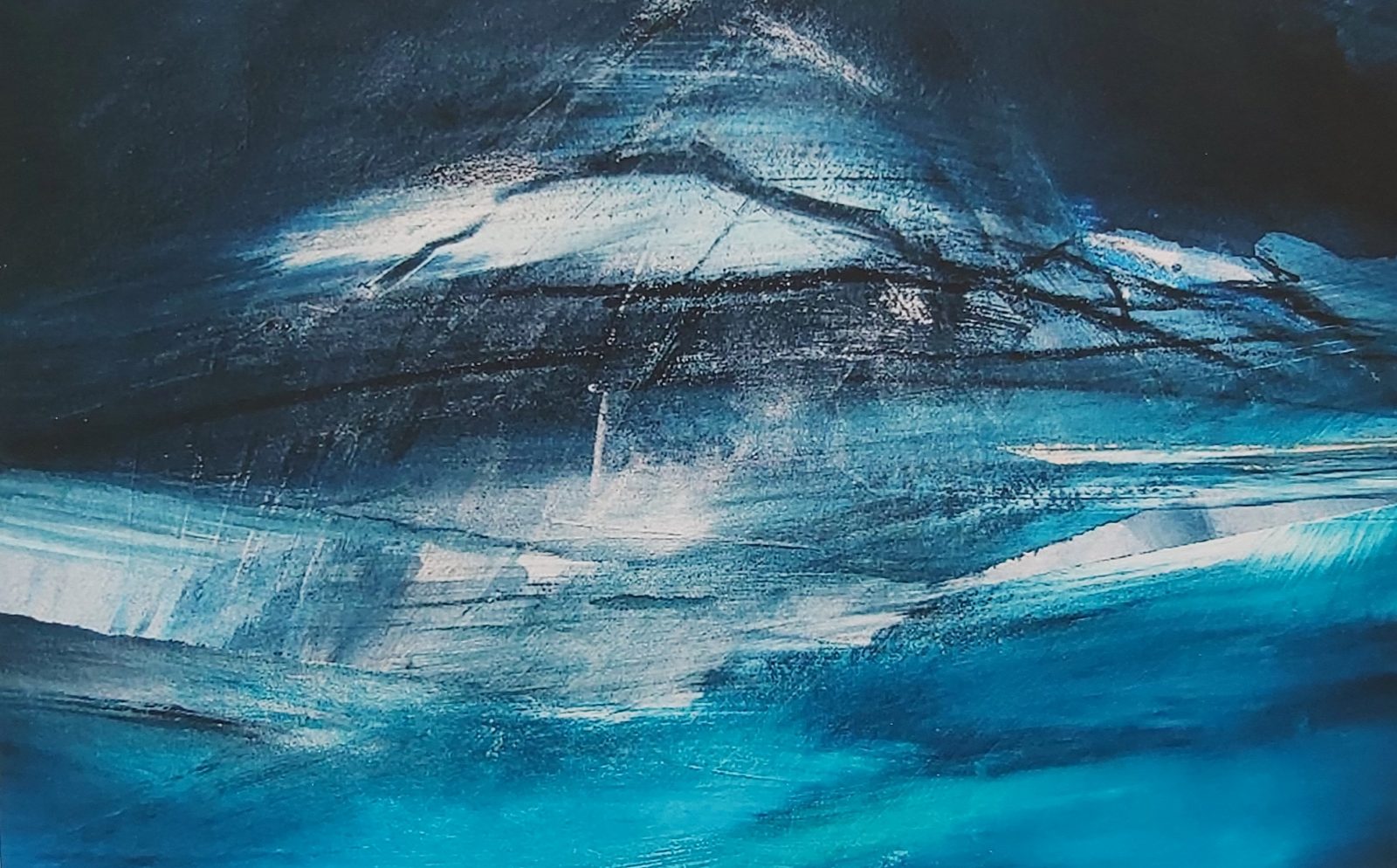 Ellis O'Connor
Ellis O'Connor is a Contemporary Landscape Artist from Scotland living on the Outer Hebridean Island of North Uist working in the field of painting and drawing.
The dynamic energy to be seen in the paintings are Ellis' response to observed changes in the landscape; 'the movement and rhythms of the sea and the land … the merging of sea with air, advancing rain and mist, ever changing light – elements that seem to be about something intangible.